Mallorca tour of 2010
Introduction
Have often been asked about the winter cycling holidays Pauline and I undertake in Mallorca, I will attempt to give you an overview of this year's tour. This is not intended to be a travelogue but should be regarded more as an information guide.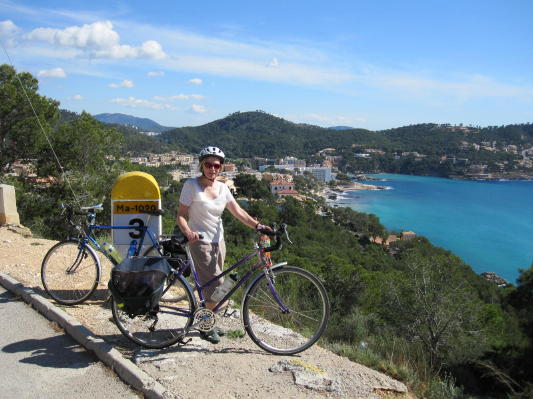 Mallorca is one of the best winter cycling environments in Europe and boasts of being very cycle friendly. In 2010 we decided as a change to our normal fixed base cycling, we would circumnavigate the island. Moving around the island, our idea was to have two nights or more in various locations, while doing day rides in between. By using this method we covered most of the island. Never being our intention to do high mileage, we varied from the shortest day of 17 miles to the longest of 42 miles. The shorter day due to feeling unwell, so we moved on via the shortest distance.
Once our bikes were retrieved from airline we unpacked them and cycled out of the airport to our fist hotel. The hotel was chosen because of its proximity to the airport. A distance of 8 miles. Here we spent first two and last four nights. Also we arranged for them to store the transit bags until our return.
Hotels
There are only two campsites on Mallorca in the north of the island; these are not normally open in winter months. Most hotels are situated at coastal resorts as they normally cater for holidaymakers. They are though very cycle friendly, many have garage and workshop facilities. Others allow bikes into bedrooms, although getting them there can prove difficult.
Like Airlines, many hotels have special offers available in quiet times. For best prices check websites like:
Alpharooms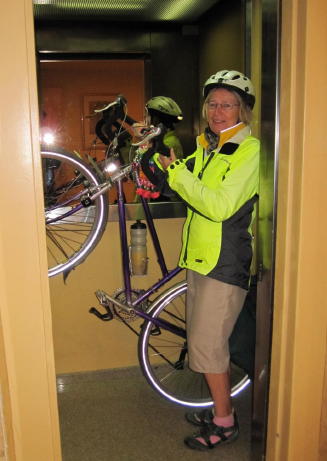 Hotels used all booked through Travel Republic
Hotel Hispania *** in El Arenal. First two and last four nights.
HotelColonia St Jordi **** in town of same name.
Hotel Anba Romani *** in Cala Millor
Hotel Montecarlo *** in Can Pickafort
Hotel Pollensa Park *** in Peuto Pollensa
Hotel Eden *** in Peuto Soller
Hotel Jardin del Mar *** in Santa Ponsa
Cycling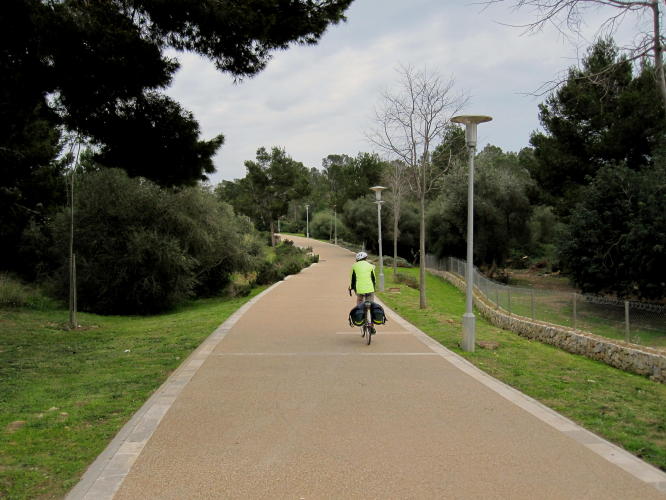 Mallorca has become a cycling Mecca for cyclists, especially in early and late season where the climate is good for cycling but not sitting on a beach. Winter months offer a similar climate to April in UK. Expect to see 100s of cyclists especially around the Palma and Alcudia areas.
The island has a varied landscape. Green fields abound the Central and Eastern Plains. Almond trees are abundant with the blossom at its best in late February and March. They are small mountain ranges in parts of the island with the large mountains down the western side. These are the Sierra de Tramuntana mountains and offer many challenging climbs for keen cyclists.
Cycleways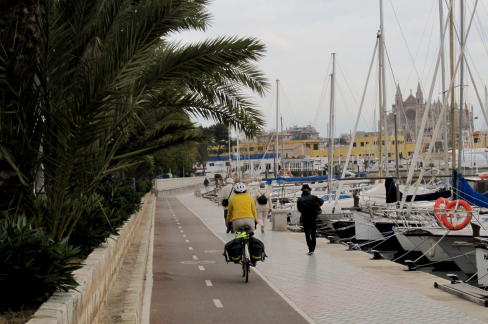 Mallorca has many miles of traffic free cycleways and green cycling priority lanes. One such cycleway goes from Paguera, passing along the seafront and harbour of Palma then onto El Arenal. A total of 26 miles of which all but 1 mile is traffic free.
Except for Palma, traffic on most of the island is light and drivers are considerate to cyclists. Many of the back lanes have cycle priority signs. Also there are many Cycletourist signs showing best routes through the lanes. Cycling maps are available showing cycle routes and cycle friendly roads. (If in Santa Ponsa an excellent Philipps Bike Team map is available free from Tourist Information).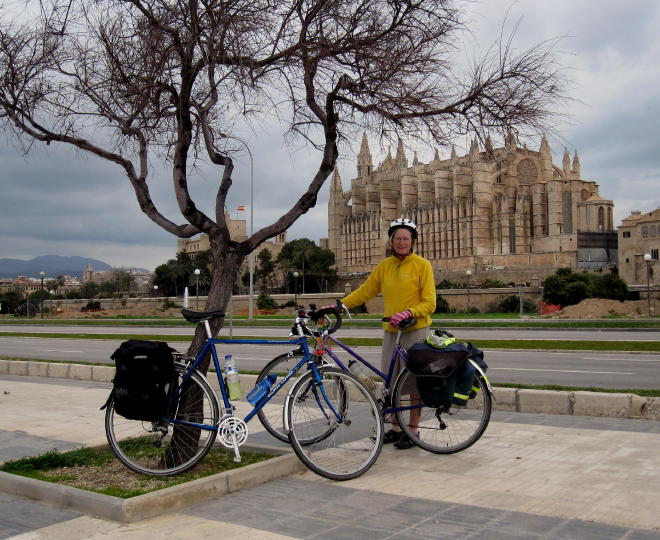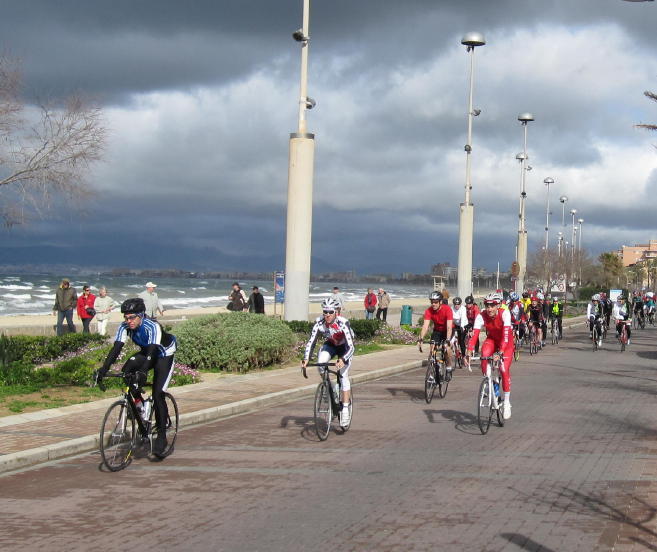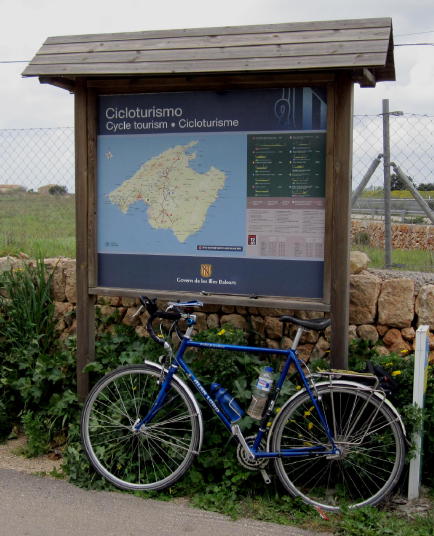 Drinking water.
Although tap water is of a high standard, it can take some getting used to and it may cause stomach upsets. We both suffered on this trip and put it down to using tap water in our drinks bottles. Best advice is, use bottled water for cold drinks and drinks bottle. Boiled tap water is perfectly okay for hot drinks. You won't find tea making facilities in hotel rooms, so take your own if required.
Logistics of air travel with bikes
Taking advantage of cheap air fares we can usually get flights to Palma under £50 each. Added to these is the extra cost of taking bikes and other baggage. The total climbs to around £200, we actually paid £183. You need to check airline websites for cheap fares, best deals appear to be about 3 months before travel.
We had good deals from each of the following airlines over the years. See their websites.
Ryanair
Packing your bike for air travel.
Airlines have their own rules as to how they want bikes packed. Easyjet state they are happy to accept bike in the polybags available from the CTC. They do require pedals removed and handlebars turned flush with the frame. Although the bikes were checked in at Bristol without any problem, we had some problems on the return trip. See my later comments. Our four panniers bags were packed in an Exped 90 litre Lite Tote bag so only one bag was checked.
Cycling Logistics of Palma Airport
There is little published regarding the logistics of flying into and cycling away from the airport. I shall endeavor to simplify the process for you.
From the aircraft make your way to the baggage collection area. When you have your normal baggage go to Carousel 10, your bikes will arrive here. Usually about 10 minutes after other bags. If you are cycling out of the airport you can unpack and ready your bike in this baggage area.
Finding the Cycle Route out of airport will be straightforward if you do the following. Leave Arrivals by exit door number 2. In front of you is a coach park, cycle straight ahead through to the end about 50 metres. At the end of the coach park look to your right, you will see a pedestrian underpass beneath the road ramps. Go through the underpass. You can cycle but give way to pedestrians. (Do not attempt any of the exit ramps as these all go to the Autovia). At the end, turn left, and then follow the perimeter fence.
You pass some staff and other car-parks, so be careful at these exits. For part of the route there is a cycle-way, use it. This brings you out at the Carrefour supermarket car-park, from which you exit onto normal roads. This is the only way out for bicycles.
For the return cycle route reverse the route out of the airport until after the coach park. Enter the Arrivals hall by door 3. Inside the door there is a large lift that will take you up two floors to Departures. Do not try riding the ramp to Departures as it is very dangerous. There is plenty of room to pack up your bikes in the Departure area. Check-In desks are located around this area.
Checking in
It appears rules for transport bikes differ here from the UK. If any problems stand your ground and ask to speak to higher authority. The packaging we used for going to Mallorca, we were told was not acceptable for the return. Even though it was the same airline. After quoting airlines policy and asking for a senior airline person the check in person relented. After that there were no problems.
Hopefully this is of some help. Try Mallorca for your next winter cycling holiday, you won't be disappointed.
Alan Lord